Date Published: 2nd March 2020
The happy team of young footballers backed by Stables Business Park
Amanda Donald Chairman of Worle Juniors Football Club said: "Worle Juniors FC are very grateful for the kind donation from The Stables. Along with the other committee members we work together to ensure all coaches are up to date with their qualifications."
Last September the Stables Business Park sponsored the team's kit and as a thank the club presented Sally and Tom Dalley with a signed and framed shirt.
Tom and Sally Dalley said it had been a great honour to be associated with the club near Weston-super-Mare as it benefitted so many local children keeping them fit and enjoying sport.
Amanda said the club's ethos was in line with the Football Association's grassroots policy of fair play. She said it was all about respect, friendship and playing in the right spirit of the game. She said: "I enjoy going around to all age groups watching them at training and supporting them on match days. It gets the children outside exercising and making new friends and this includes parents and the grandparents."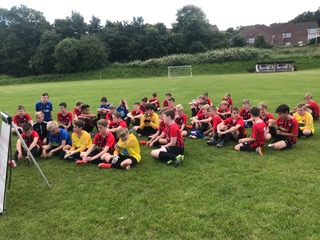 Chris Donald of the club said: "As a local grassroots club we rely on local business like Stables Business Park and the financial support we receive from all of our sponsors without whose support we would not be able to provide the teams with new playing Kit, training equipment and replace equipment as it ages and wears.
"As a club we also look to involve ourselves in local community activities and recently worked alongside the West Bay College providing life skills training where they assisted with grounds maintenance, painting and clearing rubbish. One of the students painted our club logo onto a piece of wood as part of the work.
"We hold our annual club presentation day where all of our players, parents, siblings, coaches celebrate the success of each and every player with players awarded a trophy for taking part and being part of the club as well as some players receiving special awards such as Player's Player, Manager's Player, Parent's Player and Most Improved Player."
Sally Dalley of the Stables Business Park said she and Tom endorsed the ethos of the club and were delighted to help with the sponship.
Worle Juniors Football Club has more than 160 players managed by a team of 29 volunteer coaches and abide by the Football Association's Respect Code of Conduct. Founded in 1972 the club play at Queen's Way in Worle, North Somerset. For more details of the club email cclubsecretarywjfc@gmail.com